Current location :
Home page
>
Products
>
Photoelectrochemical reactors
>
PECK205 multifunctional photoelectrochemical cell
Click to return to product center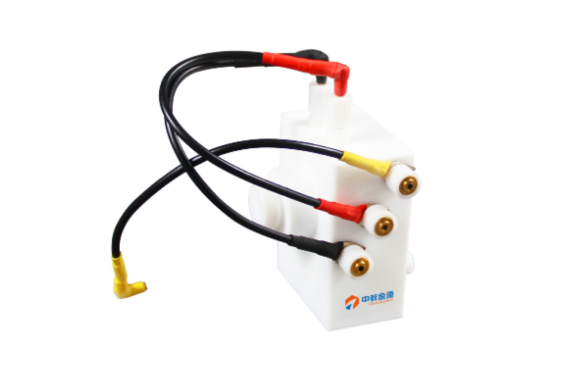 PECK205 multifunctional photoelectrochemical cell
Model:PECK205
Place of Origin:Beijing
Contact now
PECK205 multi-functional photoelectrochemical cell, insert each electrode into the corresponding position of the photoelectrochemical cell, add electrolyte from the liquid filling port, connect each electrode to the electrochemical workstation, call the relevant test function of the electrochemical workstation, and you can carry out the corresponding research or test work.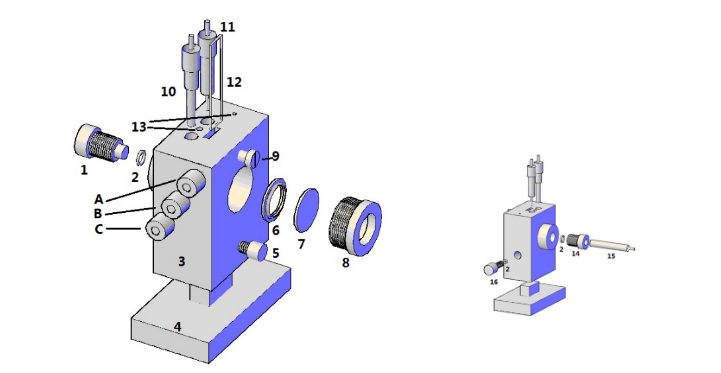 1-Tetrafluoro sealing plugs. When using conductive glass as working electrode, use tetrafluorine sealing plugs to plug the electrode holes behind the cell body.
2-O-ring seal. Please note that the size of O-ring used for working electrode and drain port is different, and the O-ring for drain port is smaller.
3-Tetrafluoro cell body; 4-Tetrafluoro base.
5-Top tightening screw. Insert the electrolytic cell on the base 4, move it left and right to adjust the position, and then tighten this screw to fix the cell.
6-Tetrafluoro seal with flat side facing in and raised side facing out into the window, then put the quartz window piece.
7 - quartz window piece; 8 - quartz window sealing screw. 6 and 7 are placed in the window in turn, and the seal is tightened with 8.
9 - conductive glass top tightening screw. The purpose is to fix the conductive glass and conduct the conductive signal to the terminal A.
10 and 11 - reference electrode and counter electrode, the positions of the reference electrode and counter electrode are interchangeable.
12 - conductive glass. Size of 10 × 45 × 1mm; A, B, C for the three electrode wire column, when using conductive glass as the working electrode, A can only be the working electrode terminal, when using other electrodes as the working electrode, the three terminals can be customized by the user.
13 - liquid filling port; 14 - working electrode teflon sealing screw. When using glass carbon, platinum electrode, etc. as working electrode, as shown in the diagram, put the sealing screw and O-ring on the electrode in turn, screw 14 on the pool body, adjust the position of the electrode into the pool body, and finally tighten it. 15-working electrode; 16-discharge port tetrafluorine sealing plug.