Current location :
Home page
>
Products
>
Photoelectrochemical reactors
>
PECK03 spectroelectrochemical cell
Click to return to product center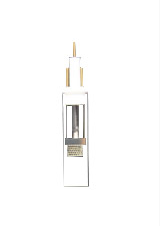 PECK03 spectroelectrochemical cell
Model:PECK03
Place of Origin:Beijing
Contact now
1.Product Model: PECK03
2. Cell body specification: 8mm×6.5mm×1mm
3. Product features: outer shape like a cuvette, four-sided light transmission. Full quartz fusion method production, PTFE cover.
4. Product use: Suitable for in-situ UV-Vis spectroscopy, fluorescence spectroscopy, photoelectric IPCE test analysis and other spectroscopic techniques signal response during electrochemical testing.
5. Standard equipment: PECK03 spectroelectrochemical cell: working electrode is platinum mesh electrode: counter electrode is platinum wire electrode: reference electrode is silver - silver chloride electrode.