Current location :
Home page
>
Products
>
Photoelectrochemical catalytic systems
>
HPRS-PEC250 Photocatalytic photoelectric reaction kettle
Click to return to product center


HPRS-PEC250 Photocatalytic photoelectric reaction kettle
Model:HPRS-PEC250
Place of Origin:Beijing
Contact now
The synergistic effect of photoelectricity can improve the catalytic activity of photocatalytic materials. By immobilizing the catalyst on the conductive matrix and applying a bias voltage to restrain the recombination of photogenerated electrons and holes, a new type of technology-electrochemically assisted photocatalysis technology, namely photocatalysis technology, has been developed. This is an effective way to promote the separation of photogenerated electrons and holes, and the photocatalytic oxidation technology is enhanced by photoelectric synergism. using the photocatalyst as the photoanode and applying a certain bias voltage, the photogenerated electrons will migrate to the external circuit. thus, the recombination of photogenerated electrons and holes is inhibited, holes accumulate on the surface of the catalyst, and the activity of the catalyst is further improved. Photoelectrochemical reduction of CO2, semiconductors under the action of light, the cathode material can produce catalytic activity under the action of electrochemistry, so as to achieve the purpose of photoelectrochemical catalytic reduction of CO2.
The high-end version of HPRS-PEC250 photocatalytic photoelectric reaction kettle adopts large sapphire window, standard double-point temperature control stirring, voltage electrode PEEK, platinum PEEK electrode clip, and automatic lifting platform; technically, it adopts the latest clasp flange structure, module heating, realizing constant temperature timing and running timing function, and on-line sampling of liquid and gas samples. Safer design, can work 24 hours a day.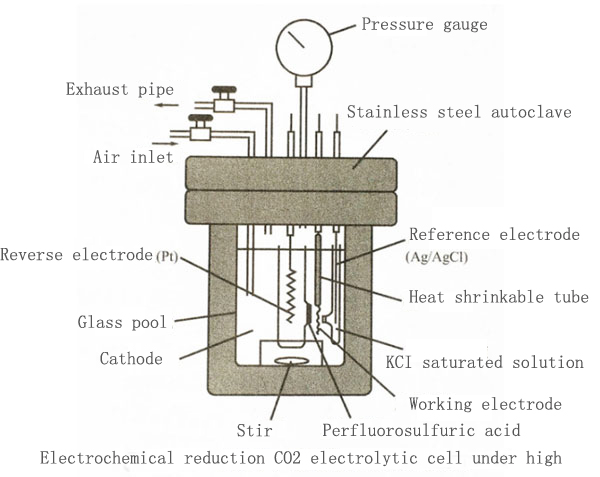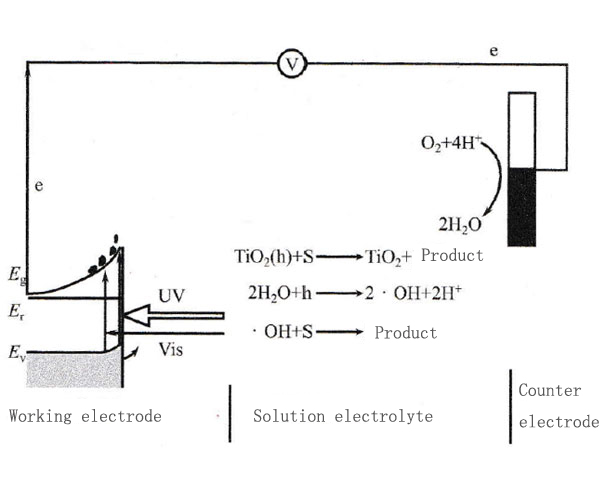 Technical parameters
Name

Parameters

Volume

250ml

Window material

Transparent diameter 30mm

Irradiation mode

Side illumination photocatalysis(Side)

Work pressure

2MPA, standard pressure gauge 2.5Mpa (optional digital display)

Automatic platform

Can automatically adjust the height of the light source to facilitate the installation of the kettle body, stroke

400mm

Kettle cover

Standard PEEK platinum electrode clip, PEEK platinum electrode, PEEK saturated calomel electrode, valve

adopts American anlok: needle valve, three-way ball valve, unloading valve, double thermocouple temperature measurement, pressure gauge, spare interface

Kettle body material

316L corrosion resistant stainless steel (standard kettle body sprayed PTFE), lining (quartz)

Connection mode

Double crescent clasp and flange connection structure

Seal

Adopt high temperature resistant graphite composite seal and double wire seal structure

Heating temperature

<300℃(Temperature control precision 0.1℃)

Temperature control mode

Double-point temperature control inside and outside the kettle, double PID constant temperature program

control

Control display

LCD settings display: control temperature, kettle body temperature, furnace body temperature, magneton

stirring speed

Power configuration

200-240V/AC,50-60Hz,1000W

Platform

The matching light source platform can realize the automatic rise and fall of the light source. (Optional 300W photocatalytic xenon lamp light source (HXF300, PF300-T8), high power LED (LED100HA), mercury lamp light source, etc.)

Recommended workstation

IVIUM and CHI electrochemical workstations

Selective electrode

Reference electrode, American CORR high temperature and high pressure reference electrode (220C, 2000PSI).

The temperature resistance of conventional reference electrode is less than 60 ℃.