Current location :
Home page
>
Products
>
Photocatalysis xenon lamp source
>
CEL-LAB500E4Multi-position photochemical reaction instrument
Click to return to product center


CEL-LAB500E4Multi-position photochemical reaction instrument
Model:CEL-LAB500E4
Place of Origin:Beijing
Contact now
CEL-LAB500E4 is the source of CEAULIGHT for the screening of catalysts to improve the efficiency of photocatalysis, multiple samples can be tested at the same time, and the analysis of parallel samples is realized. It is mainly used to study the photochemical reaction under the conditions of gas phase or liquid phase medium, fixed or flow system, ultraviolet light or simulated visible light, photocatalyst and so on. It has the functions of analyzing reaction products, determining reaction kinetics, measuring quantum yield and so on. It is widely used in photochemical catalysis, chemical synthesis, environmental protection, life science and other research fields.
CEL-LAB500E4 product features
1.Multiple sample experiments were carried out simultaneously (6-12 sample analysis) / catalyst rapid screening / parallel sample analysis
2.Rotation reaction form, built-in magnetic stirring, internal light source with (double-layer quartz cold trap) fully exposed to light
3.Configure the filter observation window to observe the reaction state of the sample.
4.The light source controller can adjust the current to control the light intensity.
5.The main engine supports cooling water circulation to avoid high temperature of light and heat.
6.The protective box of hydraulic rod is convenient for instrument maintenance and sample replacement.
7.Precise control of wavelength range (UV / visible region) by quartz coated filter
8.Match: xenon lamp / mercury lamp / (power optional)
9.System standard: xenon lamp light source / mercury light source
10.Optional low temperature cooling water circulation machine
11.Note: customers are strongly recommended to configure cryogenic cooling circulating pumps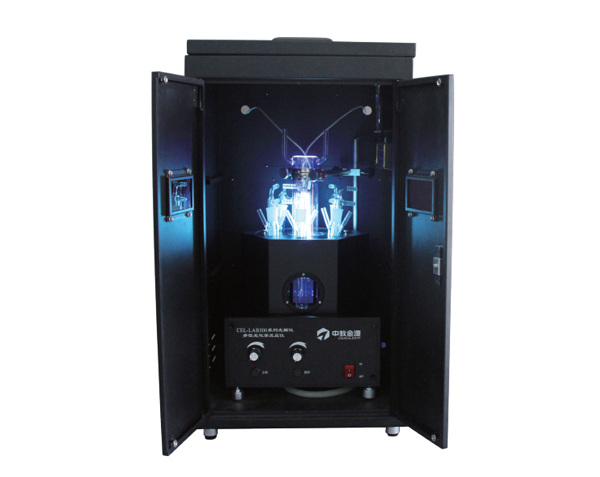 | | | |
| --- | --- | --- |
| Model | Configuration | Description |
| CEL-LAB500 | Light source, mainframe, box, filter (visible region + ultraviolet zone),CEL-QRT50 Reaction tube (quartz reaction tube + independent magnetic stirring + temperature control condenser) to realize the functions of temperature control, air intake and outlet, bubbling and so on. | Basic configuration type |
| CEL-LAB500E4 | Rotatable mainframe, box, filter (visible region + ultraviolet zone),CEL-QRT50 Reaction tube (quartz reaction tube + independent magnetic stirring + temperature control condenser) to realize the functions of temperature control, air intake and outlet, bubbling and so on. | With high configuration, the 6-stroke 12-bit reaction tube rotates around the light source, the irradiation uniformity is improved, and the parallel reaction is realized. |