Current location :
Home page
>
Products
>
Metering Pumps
>
Series Ⅱ high pressure infusion pump, constant current pump
Click to return to product center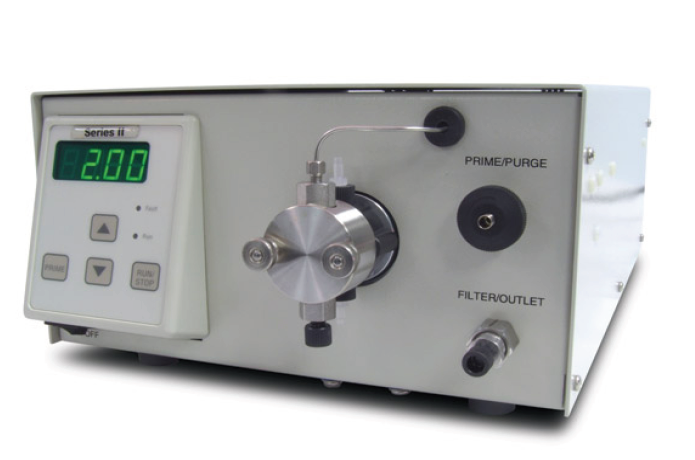 Series Ⅱ high pressure infusion pump, constant current pump
Model:United States SSI
Place of Origin:Beijing
Contact now
Meet a large number of application needs
1) Series Ⅱ pump has a patented low dead volume pulsation damper and fast filling technology, which enables this single piston pump to achieve true pulsation-free flow rate. Suitable for many harsh experimental conditions.
2) Analysis and semi-preparative separation
3) Series Ⅱ high pressure infusion pump flow rate is 0.001-5ml/min, 0.01-10ml/min or 0.1-40ml/min
4) The materials used are compatible with all applications
5) SERIES Ⅱ Infusion pump can be supplied in either traditional 316 stainless steel or PEEK(biocompatible) material to suit metal-sensitive applications. Different materials can be selected for different analytical applications.
6) Low breakdown maintenance
7) SERIES Ⅱ constant current pump is directly behind the plunger seal. With the plunger movement of eluent fluid, the patented online automatic self-cleaning device is designed to perfectly extend the service life of the seal and greatly reduce downtime and operating costs. This cleaning is automatic and requires only a weekly change of the self-cleaning solution (water). Ingeniously designed seal, no tools needed to be replaced and can be completed in 5 minutes.
8) Easy to replace the mobile phase
9) SERIES Ⅱ high pressure infusion pump automatic discharge/flushing one-button design, more convenient when the mobile phase replacement of the empty and filling, or one-button automatic discharge/filling/exhaust bubble, or manual pumping, extremely convenient.
10) excellent quality and reasonable price
11) The use of advanced design of digital stepper motor control technology and true single plunger design, to achieve extremely high performance. Very low operating costs, lightweight design and very few consumable parts constitute the main features of this pump.
12) Compatible with all existing systems
13) SERIES Ⅱ high pressure infusion pump can directly replace most pumps, no need to replace other accessories, for the maintenance of the existing system to provide a simple means.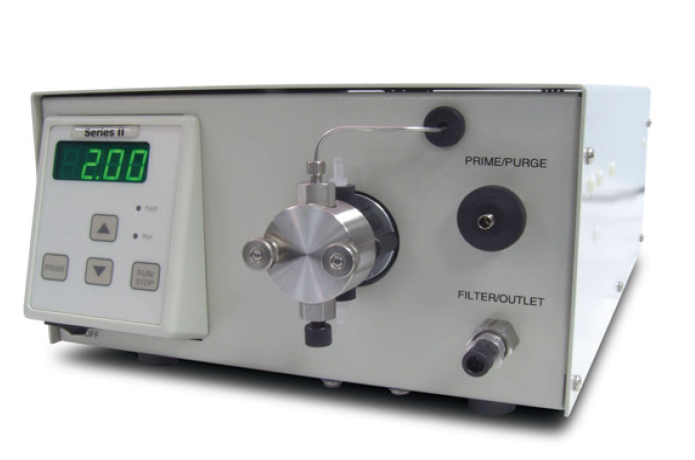 Technical parameters
Flow range

0.001-5ml/min

0.01-10ml/min

0.1-40 ml/min

pressure

0-6000 ps(stainlesssteel); 0-5000 psi(PEEK)

0-1500 psi

accuracy

± 2%

velocity accuracy

0.2%RSD

Set inside

Bypass valve/self-cleaning assembly/pulse damper

Remote input

Frequency input, voltage input

Digital transmission

RS232

Liquid road materials

Optional PEEK or 316 stainless steel

power

230V/115V,50/60Hz

Installation dimensions

140 H x 254 W x 432 D(mm)

weight

11Kg