Current location :
Home page
>
Products
>
Gas Chromatographies
>
Fully automatic system gas chromatography GC7920
Click to return to product center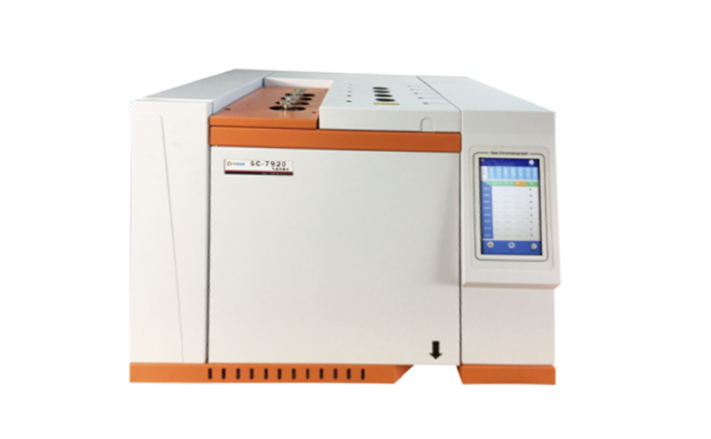 Fully automatic system gas chromatography GC7920
Model:GC7920
Place of Origin:Beijing
Contact now
Advantageous features

1. The instrument adopts Internet communication technology, which can easily form a local area network; Internet realizes long-distance data transmission, remote control, remote diagnosis, and the program can be automatically upgraded.
2. Full microcomputerized key operation, 5.7-inch large screen 13-line LCD Chinese display, man-machine dialogue mode, easy to operate.
3. New integrated digital electronic circuit, high control accuracy, stable and reliable performance, temperature control accuracy up to 0.1.
4. Unique inlet port design to solve the inlet discrimination; double column compensation function not only solves the baseline drift brought about by the programmed temperature rise, but also subtracts the effect of background noise, can get lower detection limits.
5. Large column box volume: 300*280*180 can accommodate two 80m capillary columns at the same time.
6. Better adiabatic effect: when the column chamber, vaporization and detection are 300 degrees, the outer chamber and the top cover are only 40 degrees hotter, which improves the experimental rate and protects the safety of users.
7. Unique vapor chamber design, smaller dead volume; accessories replacement: injection pad, liner, polarization pole, collection pole, nozzle can be replaced with one hand; main body replacement: filling column, capillary feeder, TCD, FID detector only need a wrench to completely disassemble, maintenance is very convenient.
8. Intelligent back door system stepless variable inlet and outlet air volume, shortening the system stability equilibrium time after the program to raise / lower the temperature.
9. Can be installed at the same time two injection systems: filled column, capillary split / non-split injection system (with septum sweep function); can be installed at the same time two of the same or different detectors: with FID, TCD, ECD, FPD detector. Optional automatic/manual gas six-way injection valve injector, headspace injector, thermal analysis injector, cracking furnace injector, methane conversion furnace.
10. With powerful and perfect power-on self-diagnostic function, intuitive display of fault information, power failure storage protection function, keyboard lock function and anti-power supply sudden change interference function.
Specification parameters

1.1) temperature control range: room temperature ~ 450 ℃, increments of 1 ℃, accuracy ± 0.1 ℃
2) Programmed temperature rise: 16 steps Temperature rise rate 0.1 ~ 80 ℃ / min
3)Communication interface: Ethernet, IEEE802.3
2. Host size
510 * 500 * 540 (mm)
Main technical indicators of the detector
Detector Indicator

Sensitivity

Sensitivity

DriftSensitivity

Linearity

Hydrogen flame FID

Mt <1×10-12g/s(n-hexadecane)

<0.2mv/h

>106

Thermal conductivity cell TCD

S>10000mv.ml/mg(n-hexadecane)

<20uv

>104

Electron capture ECD

Mt < 1 ×10-13g/ml(r-666)

<15uv

>106

Flame photometric FPD

Mt<2×10-11g/s(S in thiophene

Mt<1×10-11g/s (P in methyl parathion)




<3% of full scale

>103